Skip Navigation
Website Accessibility
Sewing Club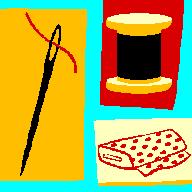 Sewing Club is the FOURTH Saturday of each month starting at 9am the Friday session is the day before at 11am.
We have plenty of time for show and tell and to feature a special project or technique every month.
Do come early as we have quite a crowd of sewers in attendance. The format is lecture-based -- no machines please.
Our Sewing Club dates are:
May 24
June 28
July 26
August 23
September 27
October 25
November 22
December - No Club for December!